ENVIRONMENT
Piaget is committed to preserving natural resources and minimising its environmental impact.
BUILDINGS
We measure the CO2 consumption of buildings with the intention of continuous improvement.
At headquarter level, following environmental audits, several improvements have been implemented regarding the buildings.
- Solar panels on the roof of the Manufacture permit the heating of water used in the toilets on the Geneva site.
- We use green electricity in our production facilities: 100% of the electricity used comes from a hydroelectric source.
- Energy-saving lighting (LED) has been implemented in offices and boutiques.
Piaget Headquarters' 6600 m2 extension, currently under construction, meets the Minergie standard. The Minergie standard is a Swiss standard of construction that requires a rational use of energy and encourages implementation of renewable energy, while ensuring improved quality of life, reduced environmental impact and lower maintenance costs.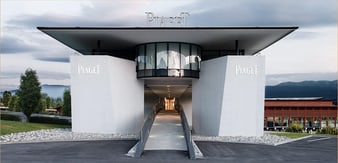 TRAVEL
Piaget's travel policy to minimise CO2 emissions is based on a simple "Avoid & Minimise" approach:
Avoid: try to use alternative means such as teleconferencing, or regroup several trips during the year together, or ask a colleague already visiting a location to address more topics.
Minimise: plan trips efficiently such as by travelling to several cities in a round trip, use transportation with less CO2 impact, such as fast train or carpooling for shorter distances.
At headquarters, Piaget encourages sustainable mobility for commuters by contributing to finance public transportation subscriptions and promoting alternative ways of commuting such as car-sharing and electric or man-powered bikes.
WASTE
Piaget's waste management policy is "reduce, reuse, recycle" whenever possible. At production, administration and in the restaurant, waste such as glass, paper, plastic, organic, chemicals, batteries, lubricants and metals (precious or non-precious) is sorted and reused or eliminated through specialised providers.
Piaget has been recycling its obsolete communication materials every year since 2011. Over 80% is reused and recycled. The rest is incinerated and the heat used.
BIODIVERSITY
In order to preserve endangered species, Piaget strictly complies with CITES*. Piaget also carefully assesses the situation regarding treatment of animals, and takes measures accordingly; for example banning materials such as porosus, shagreen (ray and shark skin), python, lizard (from Asia) and coral.
*CITES (Convention on International Trade in Endangered Species of Wild Fauna and Flora) is an international agreement between governments, which aims to ensure that international trade in wild animals and plants does not threaten their survival.
PACKAGING AND PAPER
We only use wood certified FSC (Forest Stewardship Council) for communication materials such as boxes and displays.
Piaget shopping bags are made of at least 40% post-consumer waste. 100% of paper and cardboard is from recycled or certified sources. Plastic lamination has been removed. They are reusable and recyclable.
The paper used for all communication materials is sustainable - from recycled sources or FSC labelled - including catalogues, art books and operating instructions. The same applies for office paper. At headquarters we have been lowering the paper weight for several years.
COMPENSATION
Piaget has been measuring its environmental impact for 12 years. These CO2 measures allow us to set priorities and carry out reduction action plans.
Thanks to these actions we could reduce CO2 emissions by 12% vs last year.
To be carbon neutral, Piaget compensates its footprint by funding environmental projects in developing countries aiming to protect the environment and reach the Sustainable Development Goals (SDG): energy efficiency, renewable energy sources, improved air quality and drinking water procurement.
Please find hereunder the various projects benefiting from our carbon reduction credits.
HARNESS THE POWER OF THE SUN
True to the Piaget sun territory we have chosen SolarAid an NGO active on solar energy in line with our brand concept Sunny Side of Life. SolarAid is an international charity that combats poverty and climate change. They provide access to solar lights in some of the most remote regions of Malawi, Uganda and Zambia through their social enterprise, SunnyMoney.
PEACE PARK FOUNDATION (PPF)
PPF is a South African non-profit organisation that works to re-vitalise and protect key ecosystems by establishing transfrontier conservation areas (TFCAs) throughout the region. PPF is currently in partnership with BioCarbon Partners (BCP) - an organisation which protects forests in Zambia through sales of carbon offsets. As part of an innovative seven-year agreement, Richemont will purchase carbon offsets from BCP's projects in Zambia, helping to ensure long-term preservation of critical wildlife habitats which are home to endangered species. The offset purchases will support social impact projects, providing livelihood opportunities and infrastructure to rural communities in Zambia.
RAINFOREST AND BIODIVERSITY PROTECTION PERU
Local communities benefit from the forest's increased value through the project's creation of a sustainable and valuable local Brazil nut industry. This project works with over 400 families of smallholder Brazil nut concessionaires who manage 300,000 hectares of this forest. By working with these communities to establish modern processing equipment, access to international markets and forest protection practices, high-quality Brazil nuts are produced without impacting on local native forests. A carbon revenue share is generated for every hectare of forest protected, which is distributed amongst smallholders.
CLEAN AIR COOKSTOVE, INDIA 
Located in southern India, this project involves the design, manufacture and distribution of efficient household cookstoves. These stoves reduce smoke and toxic emissions by 80%, significantly improving the health and wellbeing of families while also creating jobs and reducing deforestation.Under this program, approximately 200,000 households have access to efficient cook stoves, preventing the emission of around 27,495 tonnes of greenhouse gases per year. These stoves and cook much faster than previous methods, while also requiring less wood fuel and thus alleviating deforestation in surrounding areas.
SAFE WATER FOR BETTER HEALTH, CAMBODIA
This project, led by the NGO 1001 FONTAINS, seeks to further the access of households and communities to clean and safe drinking water, using low greenhouse gas emitting water purification technologies at water treatment stations in rural areas. The project enables locals to earn a living by purifying and distributing locally sourced water. There are currently more than 150 enterprises providing, clean, affordable water to over 220,000 people.