SUPPLIERS
Piaget promotes a supply chain respectful of human rights, labour laws and the environment.
OUR BUSINESS ETHICS
Piaget has played a pioneering role in promoting ethical and responsible practices. In this respect, in 2006, Piaget became an early member of the Responsible Jewellery Council (RJC), becoming certified in 2011 and re-certified every 3 years.
As a certified member of the RJC, Piaget follows good practices (commercial, social, environmental and ethical aspects) when buying and selling gold, diamonds and platinum.
*The Responsible Jewellery Council (RJC) is a not-for-profit, standards-setting and certification organisation with more than 900 members worldwide. Its mission is: "Committed to responsible business practices in the diamond, gold and platinum group metals jewellery supply chain, from mine to retail".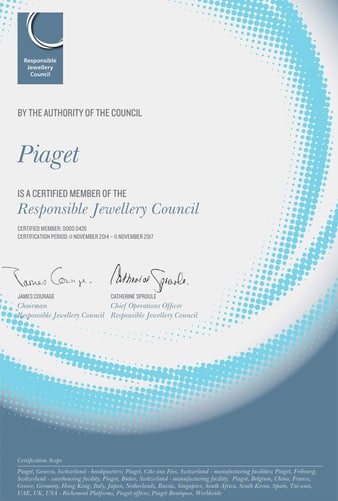 ENSURING A SUSTAINABLE SUPPLY CHAIN
In order to ensure the quality of our supply chain, we ask our suppliers to be either:
- RJC Code of Practice or Chain of Custody certified member.
- Or to commit themselves by signing the Richemont Supplier Code of Conduct. The Richemont Code of Conduct includes 39 principles covering General Requirements, Responsible Supply Chains, Labour Practices and Human Rights, Environment, Sustainable Product Development, and Application and Compliance. Suppliers are expected to communicate and encourage their own contractors and vendors to incorporate these principles into their business policies and practices. Piaget audits suppliers regularly to make sure they comply with the Code of Conduct they have signed.
Piaget strictly complies with CITES in order to protect endangered species.
GOLD
Piaget buys gold from RJC CoP or CoC certified suppliers whenever possible. In other cases, Piaget requests its gold suppliers to sign its Code of Conduct. Additionally, Piaget audits suppliers regularly to make sure they comply with the signed code.
Certified CoC gold comes from 3 sources: gold from Certified RJC or Fairmined mines, recycled gold (gold from recycled gold waste), Grandfather gold (gold proven to exist before 1st January 2012).
The RJC Chain of Custody (CoC) standard ensures the responsible sourcing of gold. It means it is conflict-free and responsibly produced at each step of the supply chain.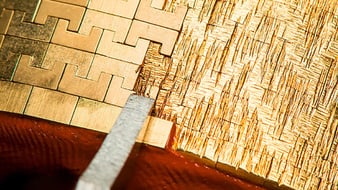 DIAMONDS
Piaget pays very close attention to its diamond supply chain and buys from RJC certified suppliers. In addition, Piaget checks the Kimberley Process Certification Scheme certificates when it purchases diamonds.
The Kimberley Process Certification Scheme (KPCS) imposes extensive requirements on its members to enable them to certify shipments of rough diamonds as 'conflict-free' and prevent conflict diamonds from entering the legitimate trade.